...and I listened. The results for the blog-about-this-on-this-day poll are in (never mind the poll's been closed for two days). Wanna recap? Sure you do!
The Simple Woman's Daybook: 2
Almost Wordless Wednesday: 2
Worship Music Wednesday: Big fat 0. Needless to say my favorite one wans't a favorite of my readers. I'm the blow owner, though, so you never know what might make the cut and what won't.
Fix It Friday: 1
Five Reads for Friday: 1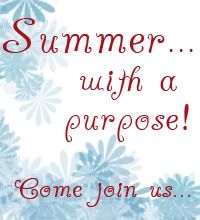 Summer with a Purpose: 3
As you can tell, SWAP was the favorite with a whopping 3 votes. Yes, I know it says 4, but one of those votes was me. I couldn't figure out how to look at the stats without voting. Told you I wasn't a techy person!
All techy comments aside, the votes just aren't enough for me to make a conclusion. I'm opening the poll back up, and even if you've already voted, vote again. You can even vote for more than one thing if you want, hence the little thing that says you can select multiple answers. Go ahead and vote, readers!
Also, since I'm still on quite sure about what to do about the posts, I'm announcing that I'm taking a undecided length of time/vacation from the posts. I have plenty of other things to write about, so for the rest of July, no more Simple Woman's Daybook or anything of the like. I will keep up with SWAP, though. Can't let my productive blogging buddies down!