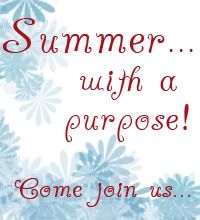 **UPDATE**
So far today, I've read my Bible (before coming downstairs!), excerised for 25 minutes, unloaded the dishwasher, cleaned up the kitchen after lunch, cleaned the downstairs bathroom for the guests tomorrow, and mowed for 30 mins. Seems like I've broken my unproductive streak, huh? By the way, I'm not naming names or anything, but someone has to use my sparkly clean toliet tomorrow...or else! :)
It's really week two for me, but whatever. A mere technicality, the date is...
Just like Emily, I'm afraid I wasn't very productive. Sure, I did a lot of odd jobs this week, like scrubbing the kitchen counters and my bathroom floor, along with finishing up the CBS task Mama and I were working on, but I didn't knock out any big tasks. Oh well, I still have most of the summer to complete my summer bucket list, if you will.
What have I worked on concerning my list of...stuff? Well, I've made great leaps and bounds in my math. In fact, I did so much math this week, I was able to take off for the holiday weekend. Virtual high five, bloggy peeps! I also cut back on my computer time, but not by much. My bad. Oh, one more thing; I have kept up with my regular chores, daily and weekly. I never really had a problem with that, but never hurts to have it written out that you need to improve on something. Motivation, you know?
Can't wait to see what things you've improved on this week! I'm off to spend a Friday night with the family...and maybe eat a ice cream cone. Hey, it's summer after all!